On page 65 of the magazine "Hanako May 2021 Issue いま大銀座で楽しいこと (Fun things in Ginza now)", which is on sale now, the exhibition "Art Liberation Zone EATS Nihonbashi (アート解放区 EATS 日本橋) produced by Tagboat" and my artwork are introduced.
Please pick it up at a bookstore and have a look!
You can read it for free on Amazon Kindle Unlimited.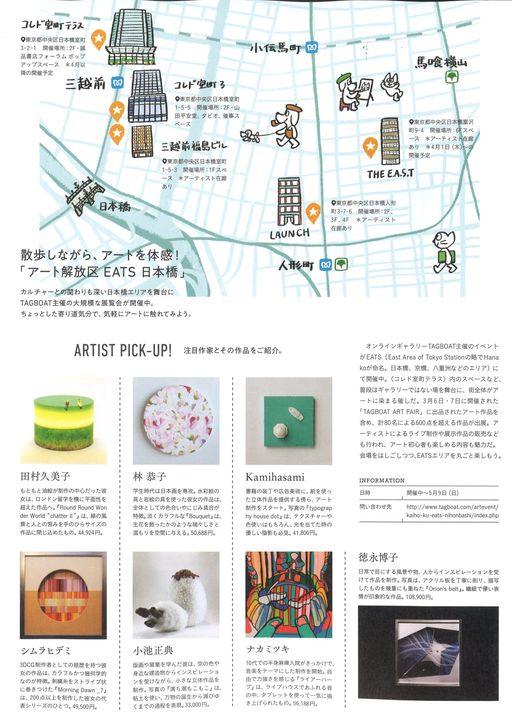 Gallery Tagboat is a Japanese gallery which select and represents almost 200 emerging contemporary artists in Japan. Online Store Gallery Space
Below are the details of "Art Liberation Zone EATS Nihonbashi produced by Tagboat".
I am exhibiting at LAUNCH 3F.
There are always some artists in LAUNCH and THE E.A.S.T near Ningyocho Station, so feel free to talk to them.
Schedule: 2021.3.19 (Friday) – 2021.5.9 (Sunday)
Venue: Around Nihonbashi, around Mitsukoshimae-Bakurocho-Ningyocho
8 locations in total 1,150㎡
■ Mitsukoshimae Fukushima Building 1st floor (Duration: March 19th – May 9th, weekdays (Monday-Friday) 11: 00-20: 00 / Saturdays, Sundays, and holidays 11: 00-19: 00)
1-5-3 Nihonbashi Muromachi, Chuo-ku, Tokyo Fukushima Building 1F
■ Coredo Muromachi 3 2F (Duration: March 19th – May 9th, weekdays 11: 00 ~ 20: 00 / Saturdays, Sundays, and holidays 11: 00 ~ 19: 00)
1-5-5 Nihonbashi Muromachi, Chuo-ku, Tokyo Coredo Muromachi 3 2F
■ Coredo Muromachi 3F (Duration: March 19th – May 9th, weekdays 11: 00 ~ 20: 00 / Saturdays, Sundays, and holidays 11: 00 ~ 19: 00)
1-5-5 Nihonbashi Muromachi, Chuo-ku, Tokyo Coredo Muromachi 3 3F
■ THE E.A.S.T Nihonbashitomizawa Town 6F (Duration: April 5th – May 9th, 11: 00-19: 00)
9-4 Nihonbashitomizawa-cho, Chuo-ku, Tokyo THE E.A.S.T 6F
■ LAUNCH 2F (Duration: March 19th – May 9th 11: 00-19: 00)
3-7-6 Nihonbashi Ningyocho, Chuo-ku, Tokyo
■ LAUNCH 3F (Duration: March 19th – May 9th, 11: 00-19: 00)
3-7-6 Nihonbashi Ningyocho, Chuo-ku, Tokyo
■ Coredo Muromachi Terrace Eslite Spectrum Nihonbashi (Duration: April 16th – May 9th 11: 00-20: 00)
3-2-1 Nihonbashi Muromachi, Chuo-ku, Tokyo Eslite Spectrum Forum 2F
Exhibitor names, maps, exhibition scenery, etc. for each venue are also in here. (only in Japanese)