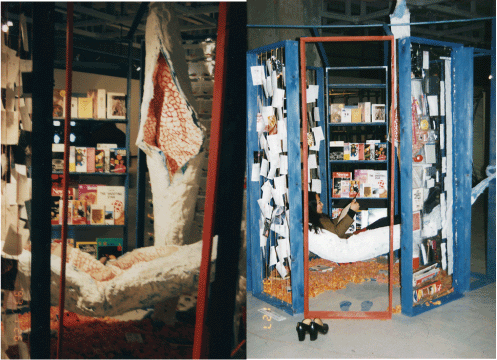 Installation
w180 l180 h200 cm
Created at Sep 16 1996-Jan 24 1997 (a graduation work)
Exhibition Jan 25-27
Material: silicon, sponge, cloth, cotton, plaster, wood,wool, paper, etc.
Why Hammock now ?
Hammock is a mysterious thing. It is just made of a piece of net or cloth. It's like clothes in the respect that "cover the people's body", also it's like a bed in the respect that "is an instrument for sleeping". Anyway, hammock is very excellent thing which has two functions (one is as clothes another is as a bed).
 You can feel a feeling of exhaustion when you lay down your body on a hammock and let your body feel the bend of the net or cloth. When you wrap yourself in a hammock, you can have a small comfortable inner space keeping a peaceful connection with outer world.
 Despite these merits, most of the hammocks are uncomfortable and not good for sleeping for many hours. People hurt their back or neck after sleeping in hammock for many hours. Hammock is unstable and it becomes flabby because it's floating in the air.
 Besides hammock is not warm. Especially, the hammock made of net is a little cold. If you put on a blanket over your body, another side is still cold. So hammock is regarded as summer-only use.
 But, I wanna enjoy the hammock in every season. It's nice to have a hammock which doesn't hurt people's back or neck when using in many hours. For these reason I decided to make a hammock for winter season.