tagboat art fair 2023 has ended successfully. Thank you very much!
After the exhibition, I am now filled with ideas for new challenges. After taking a little break, I hope to continue creating artworks while also working on new projects.
Let me explain about the exhibited works this time. There were a total of 31 pieces exhibited this time, and the other around 30 pieces were already sent for exhibition in Portugal in May. Therefore, these works were produced in the midst of a tight schedule. To avoid making the small-sized pieces look lonely, I considered how to make the exhibition interesting, which resulted in the exhibition composition this time.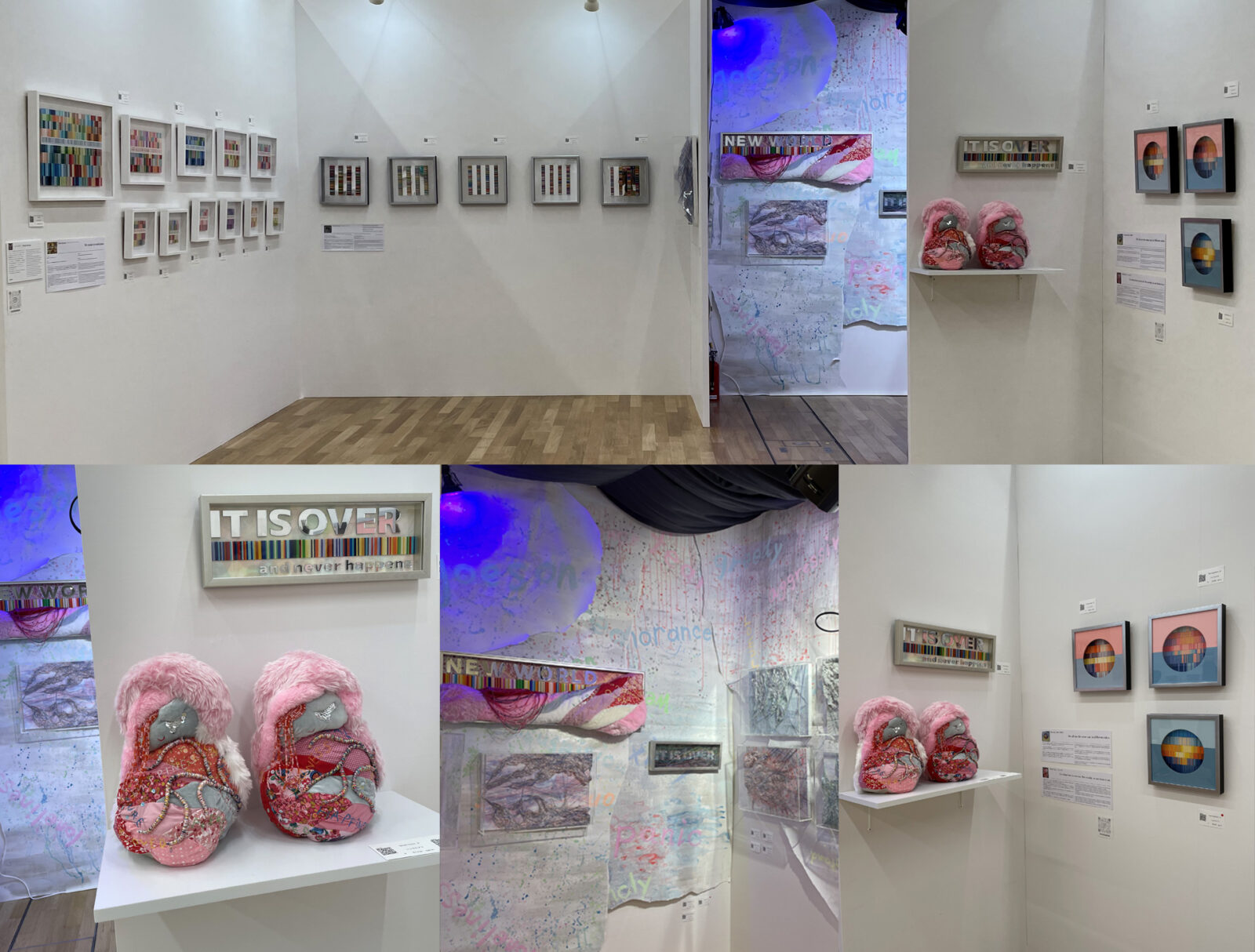 ---
Silent Invader Series
This is a classic series that I have been producing since my debut, and there are already about 300 pieces scattered around the world. The catchphrase is "We invade for world peace," and just like the barcodes that have spread in our lives without us knowing, the works create an image of gradually bringing peace to the world. I plan to stop producing this series if barcodes disappear from the world, and I had temporarily stopped producing them since 2019. However, as there is no sign of barcodes disappearing at all, I revived the series last year.
---
Parallel World Series
This is a familiar series that I have been producing since 2018. It is made by coiling silk embroidery thread around a transparent acrylic rod, and the texture of the thread changes depending on the viewing angle due to the transmission of light. Each color of the works expresses a different world.
---
Morning Dawn Series
This is a series that represents the image of a morning dawn. It expresses the feeling of being gently encouraged when looking at a morning dawn.
---
Small Voice Series
This is my favorite goddess sisters.
They are small goddess statues that can be touched and healed and carried around.
They have joined this exhibition to bring healing to everyone.
---
Boundaries Series
This is an experimental work that was created to expand the scope of expression during the COVID-19 pandemic.
The background is painted with luminous paint, and the characters on each work's background appear to float in the dark.
The floating characters express human vulnerability, such as "weakness," "egocentrism," "greed," "anxiety," "sorrow," and "violence," which become evident only in the darkness.
However, it does not deny weakness but rather hopes to create a new value system by acknowledging human weakness due to the pandemic.
---
Boundaries Chaos Version
This is also an experimental work created during the COVID-19 pandemic.
It has an incredibly intricate design, with countless threads stretched across it.
It was so difficult to make that I probably won't be able to create it again.
---
New World and It Is Over
The artwork in the top left of the image below and the two works below it are the most recent works.
There is no deep concept, just an expression of the simple feeling of "I'm glad it seems like the pandemic is over!"
You can also view each exhibited artworks on https://www.tagboat.com/products/art_fair.php?author_id=1003150, so please take a look if you're interested.
This time, the sales of mixed media types works were not very good overall, so I would be even happier if you could purchase them.
The jagged works and painting + layer works below, which couldn't be exhibited this time, will be exhibited at the next exhibition scheduled for September in Tokyo.
These works need to be produced when there is extra time, so it was difficult to produce them this time due to the schedule.
I would be grateful if you could also see the future exhibitions.